Opinion: Another look at Diesel
With gas prices currently hovering around $3.00/gallon in many parts of the US, interest in alternative fuels and hybrid vehicles has understandably increased. We've already mentioned E85 ethanol as one alternative fuel source, but what about diesel?
Europeans have been enjoying the wonderful torque and excellent fuel mileage of diesel engines in passenger cars for years. The clattering, smog-producing diesel engine of yesteryear has long been replaced by smooth-running, clean-burning successors that your average driver would have difficulty distinguishing from a traditional gas-powered engine.
In addition to the reduced noise, minimized vibration and improved emissions over their predecessors, many modern diesel-powered passenger vehicles get great mileage, too. In a recent Autoweek article, a 2006 Volkswagen Jetta TDI bested the much-ballyhooed Toyota Prius by earning a real-world 49.9 mpg versus 42 mpg for the Toyota hybrid.
[Follow "Read the rest of this entry" link for full post text.]
Need more convincing about the advances that diesel engines have made in the last 20 years? Audi Motorsport recently unveiled the Audi R10 TDI race car at the American Lemans Series 12 Hours of Sebring. Powered by an all-new 5.5-liter, twelve-cylinder twin-turbo TDI diesel engine that produces 650hp and an ungodly 1100+ Newton-meters of torque, the R10 proceeded to win the race and shatter all sorts of records concerning diesel-powered sports cars. (Check out an impressive official Audi R10 promotional video here.)
What about diesel fuel? Biodiesel – a blanket classification that (according to Wikipedia) refers to alternative diesel fuels "made from vegetable oils and animal fats" – has also been attracting interest recently. Case in point: Country singer Willie Nelson recently won an award from the EPA for his efforts in promoting biofuels with his BioWillie brand of biodiesel.
Vegetable oil can be converted into biodiesel fuel, or can be used directly with a diesel engine if a variety of needed modifications are made. At the recent MAKE Magazine Maker Faire in San Mateo, California, biofuel advocate Brandon Woll displayed a VW Vanagon equipped with a "Veggie Car-Conversion Kit" that allows any diesel-engine equipped vehicle to run off vegetable oil, including used restaurant fry grease. Several other companies make vegetable oil conversion kits, including Greasecar and Golden Fuel Systems.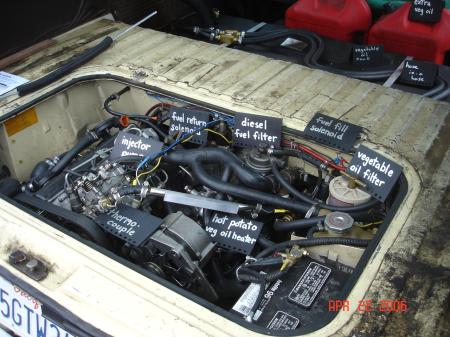 For those of you that would rather do without the smell of French fries and shrimp tempura during your commute, several resources detail how to convert vegetable oil into true biodiesel, which can be used directly in any diesel engine without modification. (See a tutorial here.)
Despite its advantages, biodiesel does have a few drawbacks. It tends to gel at higher temperatures than petroleum-based diesel fuel. It's also based on organic compounds, meaning that biodiesel usually has a finite shelf-life – storing the fuel for extended periods of time gives plenty of opportunities for bacteria to clog up fuel lines and cause other problems.
Challenges aside, the impressive strides made in diesel engine technology and in biodiesel fuel development are finally making diesel technology a true alternative to traditional gasoline-powered vehicles here in the states. More choices lead to greater competition and lower energy costs for consumers, a development that just about everyone should welcome. – [Jeff James]